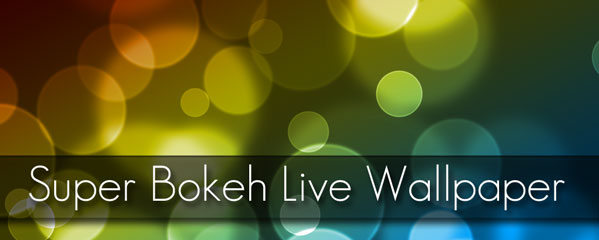 "Best App of the Week for Android Caotic"
"Talking about Bokeh Live Wallpapers, you can bet it's one of the best, if not THE best."
Super Bokeh Wallpaper Pro is the ultimate abstract Live Wallpaper.
Amazing floating bokeh particles will cross your screen with an always-changing animation!
You can change the look of the colors choosing between amazing presets or selecting your own custom colors! Customization unleashed!
The wallpaper is completely customizable: you can edit particles speed, size, brightness, movement and amount!
You can also edit color gradient, using up to 10 different custom colors, or use multiple color presets!
FREE VERSION FEATURES
Amazing Bokeh Animation
Particles Speed
3 Particles Levels
Show/Hide the Particles
Particles Pulse speed
Multiple Gradient Color Presets
Gradient Shape and Direction
Wallpaper Scroll
ICS ready!
Tablet ready!
Hardware Acceleration
PRO VERSION FEATURES
Amazing Bokeh Animation
Particles Speed
3 Particles Levels
Size of the Particles
Show/Hide the Particles
Particles Pulse speed
Particles Pulse Max/Min brightness
Up to 10 Custom Gradient colors
Set Number of colors
Multiple Gradient Color Presets
Gradient Shape (Horizontal, Vertical, Radial..)
Wallpaper Scroll
ICS ready!
Tablet ready!
Hardware Acceleration