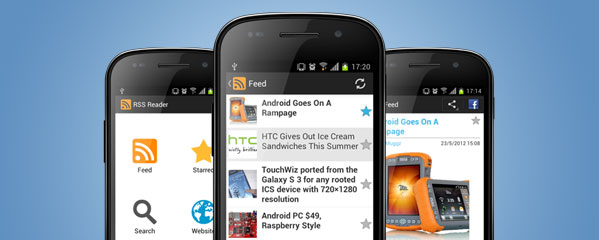 MyRSSReader by Mariux Apps is the ultimate Android Application for your Blog / Website.


What is myRSSReader?
If you want to increase visitors on your website and still don't have an Android Application, myRSSReader is the product for you.
It's a full-featured Android Application which takes care of presenting your blog/website contents with style and performance.
Graphically enhanced by our customized Holo interface, the app is studied to be perfectly working out-of-the-box on both smartphones and tablets.
Your contents will be displayed as a list, where the user can select the article he wants to read, then the Detail page is shown, where the user can scroll between the articles with a swipe of his finger, just simple as reading a book!
The user can add/remove favourites articles by clicking the star shown near the article, and the article will instantaneously saved as favourite and can be easily be found in the "Starred" category.
A Search option is available from all the frames of the app, so the user can search for what he wants, when he wants!
All the Articles will be saved locally so the user can read the contents even offline!
MyRSSReader fully supports RSS 2.0 feeds (FeedBurner feeds are supported).
What are the features of myRSSReader?
myRSSReader Features:
RSS 2.0 support
Supports all the Versions of Android (Ice Cream Sandwich 4.0 supported)
Internal Database
Starred / Favourite Articles
Social Network Fast Share
Image Optimization & Cache
Keyword Search Feature
Holo Interface
Tablet Full Support
Why should I choose myRSSReader?
MyRSSReader offers great performances to the user because it has been developed with easiness as core concept.
We offer a full featured customization of MyRSSReader User Interface in order to perfectly match your website look & feel: this way you will offer a seamless experience between your website and the Android app.
We also can customize the application if you deserve particular features, in order to provide you a unique and personalized experience just shaped on your website.
How much does it cost to get myRSSReader for my Website?
Contact us here and select "MyRSSReader" as Category for any question and for an estimate of costs!
Special thanks to OMG!Droid